Brandon Lumber & Millwork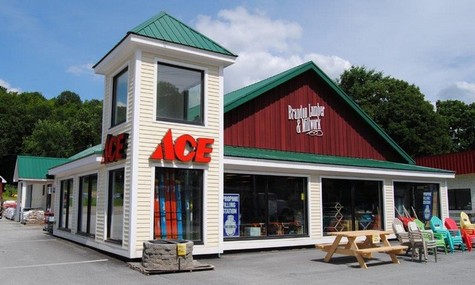 | | |
| --- | --- |
| Monday | 8:00 AM – 5:00 PM |
| Tuesday | 8:00 AM – 5:00 PM |
| Wednesday | 8:00 AM – 5:00 PM |
| Thursday | 8:00 AM – 5:00 PM |
| Friday | 8:00 AM – 5:00 PM |
| Saturday | 8:00 AM – 4:00 PM |
| Sunday | 8:00 AM – 2:00 PM |
Street Address:
11 Grove Street
Brandon, VT 05733
Mailing Address:
PO Box 61,
Bethel, VT 05032
Phone Number:
(1) 802-247-6000
History
Brandon Lumber & Millwork was originally established in 1859 by a man named Isaac Daro. Daro ran the business for twenty-five years before selling to a man named James Knapp, who held onto it for one year before selling, in 1885, to Henry Gipson. Though little is recorded about the first two owners, Gipson was known to have worked well with his manufacturers and was therefore treated well by them. This is supported by an entry in an 1891 business directory, preserved by the Rutland County Vermont historical archives, which points out that Gipson "conducted the business in a highly successful manner."
Henry was a native of Salisbury and moved to Brandon in 1871. He served as a selectman for three years, and served as a representative in the state legislature as well. Henry placed his own name on the company, calling it H.M. Gipson—Lumber, and started with a full stock of sash, doors, blinds, and other woodwork. His first business office was located where a brick "design" studio is found today on Main Street, across from the Brandon Town Clerk's Office and with the lumber yard located on Seminary Street.
Henry and his wife, Nellie, had four boys. The first two boys would die before the age of six. The other two, Arthur Gipson (1874) and William Carlos Gipson (1886) would help their father run the business, which they would rename as H.M. Gipson & Son.
In the late 1800s, H.M. Gipson & Son was relocated to what is now 3 West Seminary Street. The millwork shop was built around 1912 and they began manufacturing windows and doors. Gipson died in 1917, leaving the business in the hands of his sons, who would change the name again, calling it, simply, Gipson Brothers.
Though it is not well documented, memorabilia from the time indicate that a Middlebury branch of the Brandon store was opened in the 1920s and flourished until the early 1940s when the economy faltered during World War II.
A man named "Doc" Pratt had established himself in the millwork shop and continued working, even when the Gipson brothers sold the business to Ed Gerow. The sale was final on May 15, 1954, at which point Gerow chose to rename the business Brandon Lumber & Millwork, a name it carries to this day.
Gerow was unable to successfully build the business due to his wife's illness in the late fifties and sixties. A doting husband, Gerow would build a bowling alley for his wife to accommodate her love of bowling, and would devote much of his time and resources to caring for her. After less than a decade of ownership, Gerow was forced to put the business on the market so that he could continue to care for his ailing wife.
As he waited for a willing buyer, Gerow used the hardware store resources for his personal hobbies, fixing the boats, snowmobiles, and other equipment he enjoyed for his personal use. In the mid-1950s, he sold off all of the window and door equipment, which "Doc" Pratt had used, to Bishop Manufacturing, leaving Pratt to find carpentry work elsewhere. The company was down to two employees and struggling to stay opened when Gerow was finally able to sell later that year.
At that time, John Read, a former employee of Kidde Fire Extinguisher and the research center of Uniroyal Tire, was looking for a new venture. He knew he wanted to be self-employed, but was not convinced that he wanted to live in Central Vermont. He saw Gerow's advertisement in 1961, but did not respond to it initially. The business was advertised for years and was completely drained before Read decided to buy.
In the summer of 1967, John Read bought the business from Gerow. Read started growing the business slowly, beginning with a few building materials, a little hardware, and some paint, then growing the business by taking on more hardware. When Harold Bishop, the owner of Bishop Manufacturing, passed away, "Doc" Pratt suggested that Read buy back the sash making equipment so that he could reestablish the millwork part of the business. Read did exactly as "Doc" Pratt suggested, and Brandon Lumber & Millwork quickly regained energy under its new leadership.
Technological advances would come in dribs and drabs, with the first cash register replacing the wooden change divider in the top drawer of the office desk in 1968 and the first cordless phone arriving in the early 1980s. Proof of Read's success came in the early 1970s, when Brandon Lumber & Millwork was able to purchase its first forklift, and again in 1978, when the business expanded to the other side of the Green Mountains through the opening of a sister company, Hancock Building Supply.
John sold the Hancock division to his son Robert (Bob) Read on January 1, 1983, who ran it as an independent company for three years. In 1986, John fell ill with appendicitis and was hospitalized for three days. John was 67 years old at the time and, once he recovered from his hospitalization, he decided it was time to sell the business. Bob purchased Brandon Lumber & Millwork from his father in December of 1986, combining the businesses under single ownership once again.
In May of 1989, Bob relocated Brandon Lumber & Millwork to a larger site on Route 7 known as "Doaners TV" (currently the back building of the Brandon Lumber & Millwork location). Throughout the early 1990s, Bob made a few other purchases along Route 7, including, the "Charles Rivers" property at 13 Grove Street (Route 7) and the Laundry Mat property at 11 Grove Street, to facilitate his long term expansion plans. In September of 2000, the store was moved from the back building to its current location.
In 2008, Bob began talking about selling both the Hancock and Brandon locations. When Lang Durfee of Bethel Mills heard from a mutual friend that Bob might be interested in selling, he approached Bob to discuss an offer. After several months, on June 2, 2008, both Brandon Lumber & Millwork and Hancock Building Supply were sold to Durfee and, fortunately, Bob Read stayed on to work at the Brandon location.
The purchase of Brandon Lumber & Millwork combined the business with the larger family of Bethel Mills. Durfee made many changes to suit the changing market place and tight economy. The storage sheds were reorganized and new racking added in order to bring in hundreds of new items. The store was remodeled to double the amount of merchandise and allow a conversion to an ACE Hardware store. Backed by Bethel Mill's extensive inventory and delivery fleet, Brandon Lumber & Millwork was able to provide all the features and benefits of a large company with service that remained friendly and local.
We've a fantastic staff and a wealth of experience to assist you here in Brandon. For example, our friend Nib is 96 years old and still keeps our Brandon pine barn organized! Come by any time!