Britton's Lumber & Hardware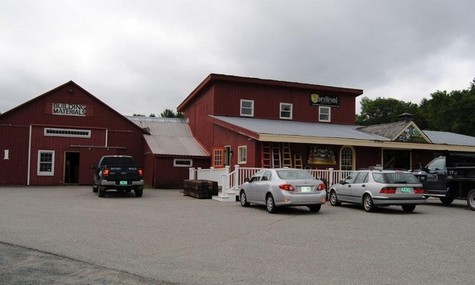 | | |
| --- | --- |
| Monday | 6:30 AM – 4:00 PM |
| Tuesday | 6:30 AM – 4:00 PM |
| Wednesday | 6:30 AM – 4:00 PM |
| Thursday | 6:30 AM – 4:00 PM |
| Friday | 6:30 AM – 4:00 PM |
| Saturday | 8:00 AM – 12:00 PM |
| Sunday | Closed |
Street Address:
56 US Route 4
Taftsville, VT 05073
Mailing Address:
PO Box 61,
Bethel, VT 05032
Phone Number:
(1) 802-457-1457
History
The history of Britton's Lumber & Hardware began in the early 1970s when Leonard W. Britton, who had a background in the lumber industry, decided to open his own lumber yard. Britton first operated the yard out of the Britton family farm on Route 5 in Hartland and, after a few years of steady growth, incorporated his business under the name Leonard W. Britton, Inc.
Britton expanded his mill business into a retail lumber operation in 1978, with the purchase of a 7-acre parcel at the corners of Routes 12 and 4 in Taftsville. Britton was always cautious about debt and did not believe it was wise to make purchases on credit, so he paid cash for the land, buildings, and materials necessary to open his doors and worked on a cash-only basis throughout his life.
A double-wide trailer served as the original store and office, with a single storage shed to house the lumber. Britton expanded the inventory items and added several storage buildings over the years and, in 1985, the store and office were doubled in size to accommodate the growing volume of paint and hardware items.
Growing up with the business, Britton's son Len drove a truck and worked behind the counter, learning the details of his father's business as he grew older. As an adult, Len knew how to run all aspects of the business, so when Len's father had reached his mid-seventies, in 2001, and began looking for buyers, Len offered to buy it at a good price, hoping to keep the business in the family for another generation.
Len spruced up the store and modernized and expanded the product lines, bringing in landscaping materials, mulch, and Blue Seal Feed. He aimed to serve a larger clientele and expanded delivery services in an effort to prevent locals from having to drive to West Lebanon for their lumber and hardware needs. In order to reflect a new focus on the many outdoor products they were now selling, Len changed the name to Britton's Lumber & Landscaping in 2008.
Late in 2009, after guiding his business through difficult economic times, Len was persuaded by friends to put his business experience to use by running for the US Senate. Over lunch, Len shared his thoughts with Bethel Mills owner, Lang Durfee, and indicated that if he decided to run, he would probably sell the business so that he could focus on the campaign. Over the next five months, Len launched his statewide campaign, finalized the negotiations on selling his business to Bethel Mills, and closed the deal with Durfee on April 5, 2010.
Since the acquisition, Britton's Lumber & Hardware has undergone many changes, including the addition of several new lumber and building product lines perfect for general contractors and homeowners.