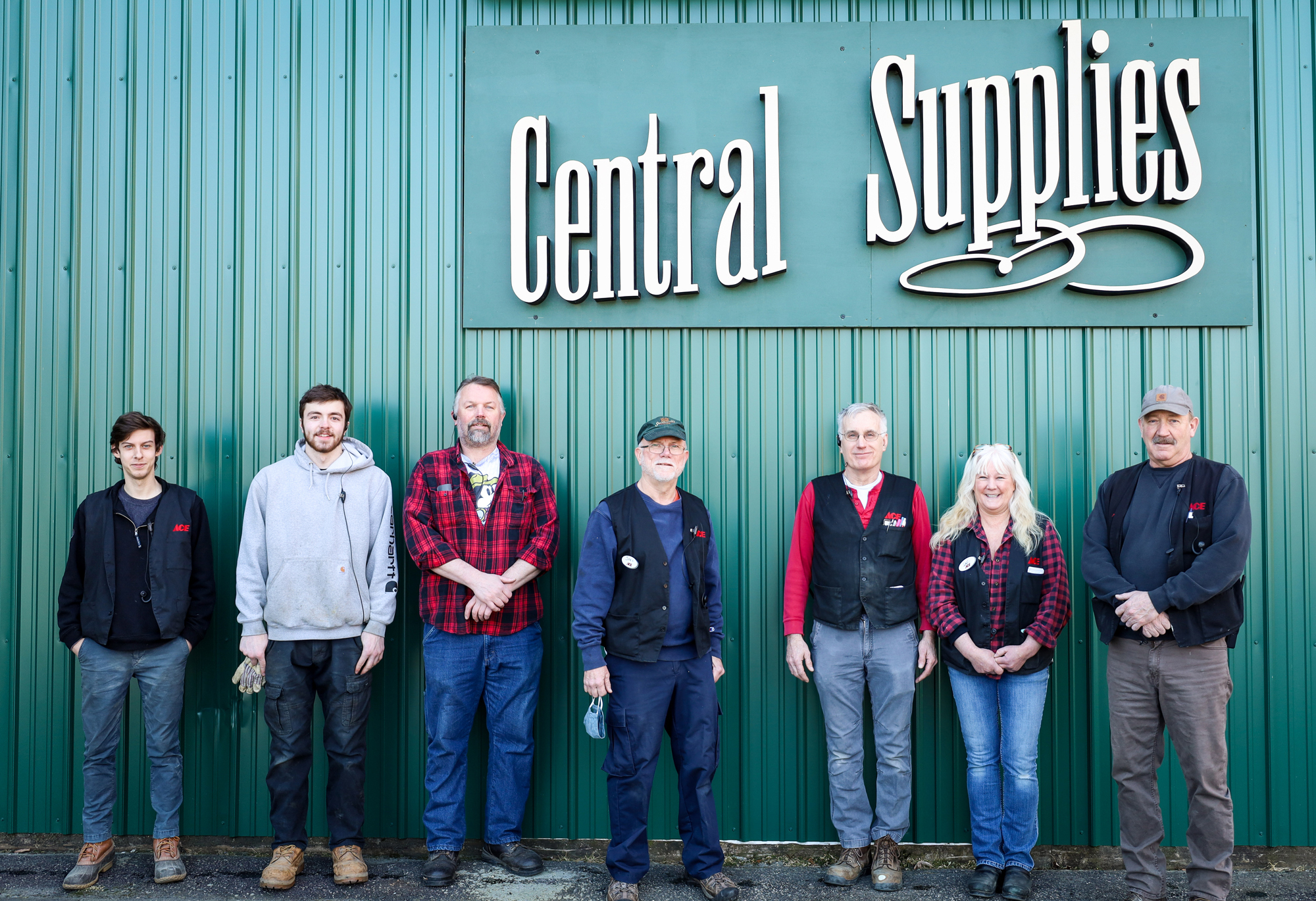 | | |
| --- | --- |
| Monday | 7:30 AM – 5:00 PM |
| Tuesday | 7:30 AM – 5:00 PM |
| Wednesday | 7:30 AM – 5:00 PM |
| Thursday | 7:30 AM – 5:00 PM |
| Friday | 7:30 AM – 5:00 PM |
| Saturday | 8:00 AM – 4:00 PM |
| Sunday | 8:00 AM – 2:00 PM |
Street Address:
839 VT Route 12
Randolph, VT 05060
Mailing Address:
PO Box 61,
Bethel, VT 05032
Phone Number:
(1) 802-728-9531
History
Though it is not known when Central Supplies was originally established, it is said to have been brought to life by a man named W.F. Edson. G.B. Farr and Sons would later own the business and sell to Edward H. Mason in 1910, at which point documents offer a clearer view of history.
Mason's daughter, Margaret Mason Dwinell, played on the business grounds as a child. In a Randolph Herald article from 1985, she was quoted as saying "I used to love to go there to play. The floors were so slippery—you could run and slide. And I loved the smell—it was just like new-made bread."
The business was located on the railway that serviced Randolph at the time. The trains would drop off freight cars, which a small engine called a switcher would then move into place. The switcher would position the car in the siding (or unloading area), and conveyor belts lined with metal scoops would carry the bulk grains to storage tanks on the third and fourth floors of the building. The fourth floor held a Eureka "Cracked Corn Separator," which was used by Mason to grind the grain grown by area farmers, including corn, oats, wheat, and barley.
Mason owned a horse, which he hitched to a wagon to deliver the grain in summer. In winter, he would hitch his horse to a sleigh for easy travel over snow. At that time, the business was opened six days a week and farmers from outlying areas would pick up their supplies, often accompanied by their wives. Farmers would charge their orders and pay when milk checks came in, so the Masons often received payments in produce and meat when cash wasn't available.
In 1935, the business was sold to Guy M. Catlin, who then sold to Wirthmore Feeds, a chain of grain and building suppliers, in 1946. Wirthmore originally operated the Randolph location as the Randolph Grain Company, later renaming the store Wirthmore Feeds. Six grain businesses were in operation in Randolph during that time, so competition was stiff and Wirthmore Feeds kept its head above water by initiating the delivery of bulk grain to area farmers.
In 1952, Wirthmore employee Francis Chase was transferred to the Randolph location. He began as a bookkeeper and worked his way up to management, leaving the job of bookkeeper to a man named Herbert Farnsworth. The two had formed a friendship by the time the Wirthmore chain was bought out in 1967.
Instead of allowing the branch to close, Chase and Farnsworth decided to take over the business, using a small business loan through Randolph National Bank. The two men named the business Central Supplies and started out with three employees as a Blue Seal franchise. They employed a bookkeeper, Kenneth Hill, and two truck drivers—one of them a man named Merton Terry, who had worked for Wirthmore as well.
As the company grew, Chase and Farnsworth expanded operations in 1969 with the purchase of the old corn canning factory, on Hull Street, next to what is known as the Ethan Allen plant. They moved the lumber yard onto the canning factory property, where Farnsworth managed day to day operations, leaving Chase to run the feed portion of the store.
Chase and Farnsworth doubled their work force during the 70s, as the business grew by leaps and bounds. Though there was more space for the growing business with the purchase of the canning factory, the simple amenities like restrooms were not installed yet, so employees had to drive to the grain store on Main Street to use the restroom. In 1975, they hired Howard Stedman to help customers with building and interior design.
As with many partnerships, the two owners found disagreement with each other and eventually reached a point where they could not work together at all. In the fall of 1983, they decided to call it quits, and the two split, with Chase buying out Farnsworth to become the sole owner of Central Supplies. However, Chase would enjoy a reign of only a few months. In January of 1984, he was diagnosed with throat cancer and passed quickly, in March of 1984. The fate of Central Supplies was then left in the hands of Lorraine Chase, Francis' wife, who had no interest in running or maintaining the business and immediately put it up for sale.
Soft-hearted businessmen, Chase and Farnsworth had lost a lot of money through generous credit extensions to their customers. In the final accounting, it was found that multiple farmers owed $30,000 and upwards for grain they had been given over the years.
With a bankrupt business under the control of a disinterested widow, the president of Randolph National Bank, Raymond Gray, along with the attorney of the estate, David Gregg, approached Jess Terry, of Braintree, to see if he would be interested in purchasing the business. Terry had already established himself as a capable businessman through his development of Lamson's Hardware, a True Value affiliate in Randolph, which he ran from 1980 to 1987.
Terry initially turned down the offer. With the business fractured in two locations (Main Street and Hull Street), and the lumber yard located on a dead end street and lacking basic sanitary facilities, few people knew the yard existed and the deal was unattractive at best.
As time passed, Terry thought more about the purchase and investigated other options for taking over the business, deciding finally that it would make sense to purchase if he could consolidate the business and move to a new location that he had found in Randolph. The parcel was a 9-acre lot located on heavily-traveled Route 12.
The only problem then was that the Route-12 property wasn't for sale. Fortunately, Terry's timing was good. Though the owner of the parcel, Herm Ashline, had declined numerous offers on the land, he liked Terry's offer and sold to Terry on a handshake agreement. The land was Terry's for $60,000 if he was able to acquire the business as planned.
Terry went back to Gray and Gregg and affirmed that he was now interested in the Central Supplies deal. They were able to put together an attractive package for Terry to purchase the assets without the real estate. He leased the existing properties for one year while he purchased the land and erected the 80' X 212' building, which continues to be occupied by Central Supplies, on Route 12 South in Randolph.
In January of 1985, Terry moved the feed business into the new building, with the lumber yard moving six months later. With a new location, a new building, new management, and a new computer system, Central Supplies had a fresh lease on life. Terry successfully managed Central Supplies for the next fifteen years, adding new equipment, new trucks (including Central Supplies' first boom truck), new services and many more products under the True Value banner. With improved credit policies, Terry was not only able to keep Central Supplies afloat, but was able to grow the business and prosper in the new economy.
Though Terry ran Central Supplies with great success over the years, he suffered from the stresses of day-to-day operations and, in 1999, decided that it would be best to sell the business so that he could focus on his health. Terry placed an article in the local newspapers to announce his decision and was quickly presented with offers from local businessmen. After reviewing his options, Terry felt that the Bethel Mills merger would yield the best results.
Lang Durfee, the owner of Bethel Mills, took ownership on April 15 of 2000. Since then, Central Supplies has increased its product offerings. Operating under the ACE Hardware banner, they have added a drive-through lumber warehouse and have completely remodeled the store.